Mobile World Congress 2017
It was, we are told, the biggest yet and the number of attendees exceeded 100,000 for the first time this year. The show just seems to get bigger and bigger each year and there is talk of another day being added to the programme for next year.  The show coincided with Formula 1 testing also taking place in Barcelona and one could be forgiven for thinking we had stumbled into the wrong venue such were the number of racing cars on display here at MWC. Come to that, the number of top range cars sitting in the exhibition could even have convinced me I was at the Geneva Car Show.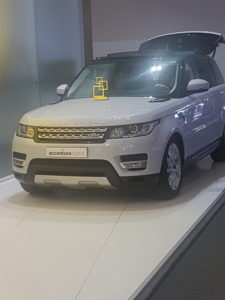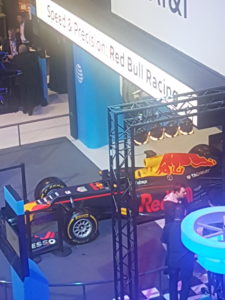 There were plenty of cars on show this year!
This is the big clue of course as to why this event is getting bigger and is now so much more than just a mobile technology trade show. The connected car, city, world, and the evolution-come-revolution of IoT and Virtual or Augmented Reality (and a bit of Artificial Intelligence, but not much) means that just about the whole world now sees this extravaganza as being about the digitally connected future. It's now Digital McKinsey and Digital Accenture and companies like Bosch showing us where the chips go in the freezer and of course how to use our Bots and PANs. This connectivity is being called the 4th Industrial Revolution.
Whether it is your private area network or just your chance to network with real people it seems the events main attraction is still about personal and business networking. Presentations are made, bottom lines are haggled over and deals are done. I'm told by those in the know that really big deals get sealed here at MWC and we are in the age where it really is mobile money that makes the world go around.
Thankfully, 6G was rarely mentioned. There appeared to be a realism about the challenges in deploying 5G, both technically and, rather worryingly, from a business case perspective. Claudia Nemat, Deutsche Telekom's new Chief Technology and Innovation Officer said the problem is in identifying user cases for 5G. We have been here before of course and it does make me wonder just how many operators have been able to tick the box on payback on 4G investment before they start all over again with 5G. The absence of a sound business case hasn't stopped investment in the next generation before of course and will 5G be any different? Perhaps a much tougher stance will be taken on the approach to 5G investment. Sunil Bharti (more from him later) said "Revenue is tapering off, and down to single low-digit figures, which is unsustainable in a capital intensive business," going on to point out that although something like $200 billion per year of capex was being expended, the return on capital employed was in the single low-digit figures. "You may as well put the money in the bank and go and play golf."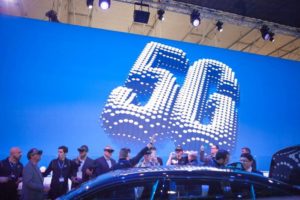 I do sense a distinct difference in approach and optimism about 5G between Europe and that in Asia and North America. The latter seem to be far more aggressive and confident about 5G. Europe still seems to be unsure. It seems in Europe there is lot of work to be done in convincing operators that 5G will be a commercial success and mobile operators in Europe seem to be taking a less adventurous stance than many of their governments and regulators, who all want to see their country as the world leader in 5G, even if most of them, and especially in Europe, have a very strange way of going about it.
There was an IoT show going on within the MWC show. Big numbers of connected devices are bandied about and the essential ecosystems are emerging but are far from complete. In taking a look into the prerequisites for IoT, one didn't come away thinking that 1Gbps data speeds were the crucial element. Far from it, there were very few IoT applications being demonstrated here needing anything like that kind of data speed. There was more emphasis on latency, in-building connectivity, billing mechanisms and of course security. An IoT world will need a new approach to security if it is to be successful. There is pretty much wide agreement on this but in truth, very little evidence of a radical new approach being demonstrated and too much stretching of conventional thinking. The real breakthrough in IoT security remains the big goal for someone.
If IoT is the promise of the future than what we used to call OTT is the reality of today. Increasingly it is the major applications that grab the headlines and dominate the key note speaker slots. Filling the auditoriums this year was John Hanke talking about Pokémon GO (it has accounted for 4,500 TB of data since its creation – wow!), Reed Hastings from Netflix and John Martin from Turner to name just some.
The audience is still mainly made up of operators in these keynotes and the Q&A that follows them always has a recurring theme, 'how do operators make money?' and 'are you the operator's friend or enemy?' The underlying grievance behind these questions hasn't changed. It's us (MNOs) who make the huge investment in infrastructure, pay huge spectrum licences, employ lots of people and pay taxes; but it's you guys making all the money. I am always intrigued and fascinated by the response from the OTT industry. Most of them have to stop and think about the answer because it's not something they have ever felt the need to concern themselves with – and why should they! Your problem, not mine.
This brings me round to thinking about business models for MNOs and the need for them to evolve. I can see some evidence of that happening already. Exploiting verticals with the right partners is an obvious choice and this means finding both the right sector expertise and a system integrator. Creating ecosystems in new verticals is one way for MNOs to counter the 'dumb pipe' challenge. Orange are making an impressive success of their banking services for their customers. Could this extend beyond their own base one day? That would be interesting to see. Many operators are looking at content and how to provide premium and live content to their customers. Content as the next gold rush was a sub-theme at the show. The argument here is that customers perceive value in the content they watch, not in the access they use.
Not surprisingly, many operators are talking about their transformation programmes and the CTO of today is now the Chief Transformation Officer. Getting fit for purpose for the digital economy and the connected world is encouraging operators to think about these new business models. VimpelCom announced at the event that they have rebranded themselves and are now called Veon and their business is not about infrastructure any more but about being a digital technology company. It seems that whether by choice or by necessity, mobile operators are determined to break out of their Telco mould. MWC 2017 may have been the tipping point towards a new era in which we will have to start classifying mobile operators differently and the days of them all looking the same with the same business models are changing fast. We wish them well as they boldly go where no MNO has gone before!
We could not finish this review of MWC 2017 without going back to day one and the opening keynote speech from new GSMA Chairman, Sunil Bharti Mittal, who of course is also the Founder and Chairman Bharti Enterprises who own and run Airtel. To say he caused a stir on opening day would be an understatement. "I can promise you, during my term at the GSMA, roaming charges will be a thing of the past," he told us all. The driver seems to be not so much about offering a better service and better value for money for international roamers but more to do with the stigma of the reputation indices showing mobile operators as "trending just above the tobacco industry".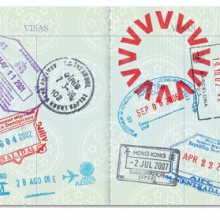 We have commented on our pages many times before about the irony of industry insiders visiting the world's premier mobile trade show and getting onto WiFi as soon as they can and putting their mobile phone on standby. The reason has of course been the roaming pricing strategies adopted by MNOs which have successfully persuaded us all not use the roaming service. Maybe the fightback starts here. We at Azenby will be following this very closely to see how this develops in the coming months.
That's the end of our quick tour of MWC 2107. I hope you enjoyed it. Please let us know and let us have your comments and feedback in the box below and if Azenby can help your business in seizing the new opportunities that lay ahead, please do give us a call.